Search Construction Sector
Why should you be listed in our directory of companies and building supply shops?
An online construction business directory that allows you to actively promote your business online. With the help of our site, you will create your own profile, which will help you increase the visibility of your company online. Your future customers will find there not only your contact details (e.g. addresses of your branches) but also a brief description of your business; information about the brands you offer; the orders you have carried out; the values you uphold; etc. The images and graphics you upload will increase brand awareness; the Products tab will allow you to fully present your range of goods and services, and the different language versions of your profile will make it easier to promote yourself abroad.
Would you like to simultaneously receive feedback from your customers and collect statistics on their activity?
All of the aforementioned profile functionalities allow for the collection of user ratings and opinions. This includes the company itself, the product range, published Blog entries and answers to questions. All entries can be referred to so that you can, for example, thank them for their positive feedback. In addition, you have access to user activity statistics on your profile, completely free of charge.
Latest Construction Companies
Browse Companies by Categories
Browse Suppliers by Categories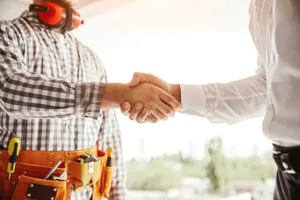 Builders
Are you planning a home renovation or construction project? Finding the right builder is crucial
Read More »